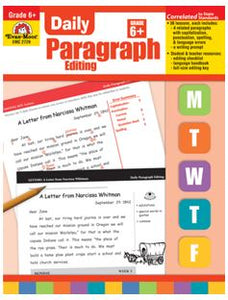 The teacher's edition contains reproducible student activity pages, and accompanying teacher support, answer key, and skills charts.
With the Daily Paragraph Editing Grade 6 Print Teacher's Edition from Evan-Moor.com, teachers get daily writing and editing exercises that help students apply language skills. This research-based language arts resource incorporates daily lessons that focus on important skills covered in grade six, including punctuation, spelling, capitalization and language usage.
Learning to edit and self-correct writing is a difficult skill to master even for adults. However, with daily paragraph editing practice, students get the essential focus they need to become strong, fluent writers and editors
The Evan-Moor Grade 6 Daily Paragraph Editing Print Teacher's Edition comes with a set of extras that includes a reproducible student handbook, a page listing reproducible proofreading marks, an editing checklist and an assessment rubric to assist teachers in writing instruction. Daily Paragraph Editing also includes a weekly writing prompt to encourage students to apply language skills in their own writing. The Grade 6 Daily Paragraph Editing Teacher's Edition is also available in an e-book format as well as individual student practice books, letting educators find the ideal version to suit their classroom.
Common Core Top Pick for Language
• Conventions of Standard English
• Knowledge of Language
Daily Paragraph Editing, Grade 6 covers grade-level skills in these areas:
• capitalization
• language usage
• punctuation: apostrophes
• punctuation: commas
• punctuation: periods
• punctuation: quotation marks
• other types of punctuation
• spelling
Daily Paragraph Editing "extras" include:
• a reproducible student language handbook that provides simple, clear rules and examples of their application to guide students in correct use of the mechanics, grammar, and spelling skills covered in the daily paragraphs.
• a page of reproducible proofreading marks that models the standard markings used to correct and edit text.
• an editing checklist to guide students in reviewing and revising their own writing or that of a peer.
• an assessment rubric to guide teachers in conducting a holistic evaluation of student writing.