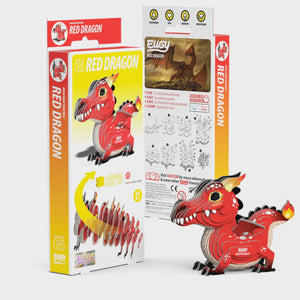 EUGY Red Dragon 3D Puzzle
EUGY - a super-fun 3D puzzle that's eco-friendly and can be assembled in 10 to 20 minutes! Assemble this sinister Red Dragon 3D puzzle and experience the magic of EUGY!
This collectable toy is great for STEM concepts and craftable fun. It's sure to delight kids and adults alike! There are over 90 designs and counting for you to collect and enjoy!
Characteristics: This Red Dragon 3D puzzle may be small, but still has everything you'd expect from a dragon - teeth, horns, wings, and even a fiery tail! A perfect arts and craft activity to help pass some time and teach following instructions. Puzzle also contains fun Dragon facts to help kids learn while they build!
Size: Package measures 6 1/4" tall, 3 1/4" wide and 1" deep. Completed puzzle measures 3.66" L x 2.09" W x 2.87" H.
Materials: EUGY puzzles are made from high quality biodegradable cardboard and eco-friendly inks. Non-toxic glue is included for assembly.
Age: 6+