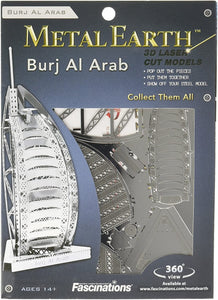 Description:
The Burj al Arab (Tower of the Arabs) is a 5-star luxury hotel located in Dubai. It stands at 321m (1.053 ft.). It is the fourth tallest hotel in the world and was designed by British architect Tom Wright. It was built to resemble the sail of a type of Arabian ship called a dhow. Two "wings" spread in a V to form a vast "mast", while the space between them is enclosed in a massive atrium.
Contents:
Information sheet, 11cm Steel Sheet
Age Range:
14 yrs
Level:
Challenging
Choking Hazard- Small Parts. Not for childrent under the age of 3 years.