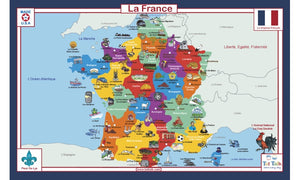 La Belle France! Tot Talk's France placemat features the map of France with its 22 administrative regions and bordering countries and water. It also includes 75+ colorful pictures related to France's culture and the associated French words. The back side includes counting to 100 in French or English and learning some simple French dialogue. Parents can show where family live, where the next vacation will be, explain from where food originates, highlight the French language, and much more, while enjoying some French cheese together on a clean surface. 
MADE IN USA
Safety-Approved  
Award Winning
Anti-bacterial - Wash with dish soap; placemats dry quickly. 
Use dry erase or washable markers.  Kids can also wipe clean with paper towel or eraser.  A spray bottle is fun too!  
Used in homes, schools and on the go, traveling or in a restaurant.
Age Recommendation:  2 - 6
Lightweight and durable.  
Dimensions:  17.5" x 11.5"