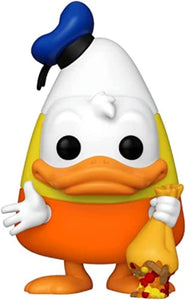 Funko Disney Donald Duck Trick or Treat
Vinyl

Imported

Aw, phooey! Pop! Donald Duck's treat bag has burst open, but he's still in the spirit of Halloween.

Dressed as a delectable piece of candy corn, Pop! Donald Duck is ready to go trick-or-treating. Add him as a sweet treat to your Disney set.

Vinyl figure is approximately 4.43-inches tall.