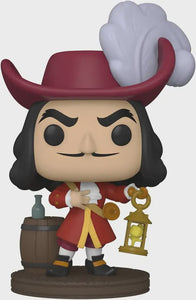 Funko Disney Pop Captain Hook Villains
Vinyl

Imported

His anger is certain but how he'll choose to lash out is what's unpredictable. It doesn't matter what deal you make with him, he'll find a way to twist or work around it. The villainous pirate is determined to get back at Peter Pan. Whether by hook or sword, Pop! Captain Hook is in pursuit of Pan to win their battle once and for all. When he captured Tinker Bell, she told him where to find the flying boy.

Prepare for Pop! Captain Hook to make his way to your Disney collection. Vinyl figure is approximately 6-inches tall.