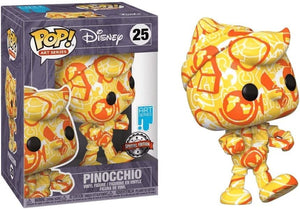 Funko POP Artist Series: Disney Treasures from The Vault - Pinocchio, Amazon Exclusive
Funko presents Disney Treasures from the Vault a series dedicated to Disney and exclusively available here. Every month a new Treasures of the Vault collectible is released adding unique styles and figures to your Disney collection. The second figure of this 13-part series is: Art Series Pop! Pinocchio.

This collectible offers a unique, artistic touch to any collection since each piece has an all-over-print which varies slightly from every other figure. No two figures will look exactly the same!

Pinocchio wants to be a real boy and has a school themed pattern to reflect that. This makes Pop! Pinocchio a great gift for a teacher or for the Disney collector in your life.

Pinocchio is holding an apple and his book, ready to go to his first day of school. His design's pattern includes letters, numbers, apples, globes, pencils, and more.

Vinyl figure is approximately 3.75-inches tall, comes in a window display box, and an acrylic hardcover!