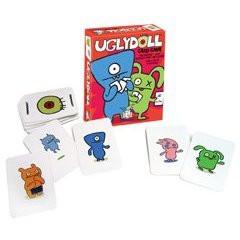 Description
Join Ox, Wedgehead and the rest of the Uglydolls in their first ever fast action card game. Turn over cards until you spot three matching Uglys. Then race like an Ice Bat out of Heck to grab a match before they all get snatched. Claim the most cards and you claim the game. Winning isn't always pretty but it's always fun!.
Contains
70 cards, rules of play. Play time: 15 minutes,
Reinforces:
hand eye coordination, matching.
Made in the USA 2-6 Players, ages 6 and up.
Awards:
Oppenheim toy Portfolio Gold Seal , Best toy award