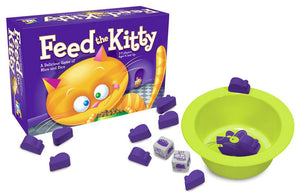 Description
Feed the Kitty is as simple as a cat's life. Mice are on the menu, and as they move from place to place, it's anyone's guess who will end up hungry and who will get to have a full belly. Will you be caught catnapping or will you pounce into the lead? The answer is all in the roll of the dice! Feed the Kitty Game: Details. Ages 4 and up, 2 to 5 players, Playing time: about 15 minutes, No reading required How to Play: Roll the dice but don't lose your mice! In this fast moving game, try to keep your mice away from the kitty. Roll an arrow and pass one to the left. Roll a sleeping cat and you're lucky to squeak by. But roll a bowl and it's dinner time for kitty! The last player left with mice wins.
Reinforces:
Visual Discrimination and counting skills.
Contents
20 Wooden Mice, 2 Customer dice, Kitty Bowl, Rules of play.
Awards:
Oppenheim Toy Portfolio Gold Award, Today's Parent Magazine Top Toy of the Year,Parents' Choice Approved,Adding Wisdom Award, Parenting Magazine Mom-Tested Toy of the Year, FamilyFun Magazine Toy of the Year Finalist, Canadian Toy Testing Council *** (Highest Rating), iParenting Media Award, Creative Child Magazine Preferred Choice Award, Dr. Toy's Best Vacation Products, Parenting for High Potential Magazine Recommended.
WARNING:
Choking Hazard: Small Parts, Not for children under the age of 3.
Box Dimensions: 8" x 5.25" x 2.75"
Weight: .75lbs