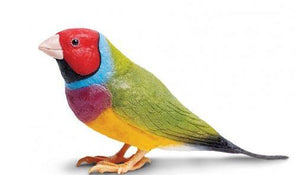 Description:
Gouldian finches live in open woodlands and open plains in northern Australia. They mainly feed on grass seeds, but they also eat invertebrates sometimes. They live to be roughly 8 years old.
Scientific Name:

 

Erythrura gouldiae
Characteristics:

 

Gouldian finches are very colorful birds. They have bright green backs and wings, purple chests, bright yellow bellies and light blue tails. The color of their heads can be yellow, black or red. Their beaks are a whitish color with a yellowish or reddish tip.
Size:

 

4.75" L and 2.75" H.
All of our products are Non-toxic and BPA free.
History
Wild Gouldian finches used to be captured in large numbers for the pet industry, but that practice has been banned since the 1980s. Gouldian finches are still bred in captivity and are popular pets because they are easy to care for and breed.
Recommended Age: 

3+

Size:

 

4.68" L 2.83" H x ( 12 cm x 7.25 cm )