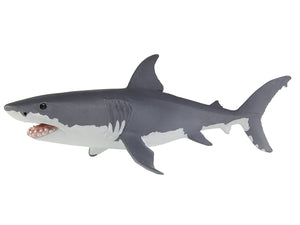 Description:
FAMOUS FEARED PREDATOR – Feared by beach goers throughout the world, Great Whites are the largest predatory sharks in the world. With huge, gaping jaws, 300 razor-sharp teeth, and the ability to accelerate to over 35 mph, the Great White is a fierce predator.

PART OF THE WILD SAFARI SEA LIFE COLLECTION – The Wild Safari Sea Life Collection contains an amazing diversity of creatures that call the ocean their home. From tiny starfish to the enormous blue whale, each figurine was designed to bring the wonders of the sea to your fingertips.

MADE WITH INDUSTRY-LEADING STANDARDS – Like all Safari Ltd products, the Wild Safari Sea Life Great White Shark has been individually hand painted, features quality construction from phthalate and lead-free materials, and includes an educational hangtag in 5 languages.

REALISTIC APPEARANCE FOR MULTIPLE USES – Realistic, educational, and fun, this figurine is suitable for a range of interests, including collectors, enthusiasts, teachers, and kids. Admire it on a shelf, use it in the classroom, or simply enjoy playing with it.

PRODUCT SPECIFICATIONS – Measures 6.25"L x 3"W x 2.75"H from fin to snout. For ages 3 and up.