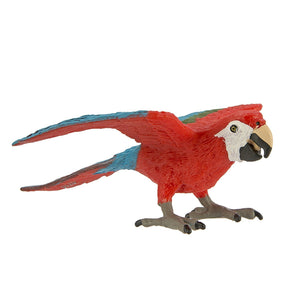 Description:
LOVELY FEATHERED FRIEND – The largest of its genus, this beautiful macaw is second only in size to the hyacinth macaw. It lives in the forests and woodlands in South America. Like other members of its species, the green-winged macaw has experienced declining numbers due to deforestation and illegal capture for the parrot trade.

PART OF THE WINGS OF THE WORLD COLLECTION – Where the gift of flight comes to life, the Wings of the World Collection features some of the most vivid colors and intricate details of any Safari models.

MADE WITH INDUSTRY-LEADING STANDARDS – Like all Safari Ltd products, the Safari Ltd Wings of the World Green-Winged Macaw has been individually hand painted, features quality construction from safe, phthalate and lead-free materials, and includes an educational hangtag in 5 languages.

REALISTIC APPEARANCE FOR MULTIPLE USES – Realistic, educational, and fun, this figurine is suitable for a range of interests, including collectors, enthusiasts, teachers, and kids. Admire it on a shelf, use it in the classroom, or simply enjoy playing with it.

PRODUCT SPECIFICATIONS – Measures 4.1"L x 3.5"W x 1.6"H. For ages 3 and up.