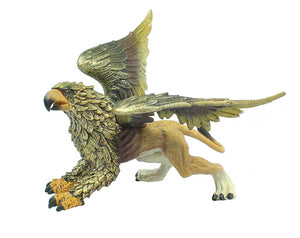 Safari Griffin Toy Figure
Majestic Hybrid: The Griffin, a mythical creature combining the majesty of the eagle and the strength of the lion, is known for its wisdom and power in various mythologies.

Lifelike Imagery: With bronze and gold coloring and an active pose, this Griffin toy creates the impression of a feared and respected solitary beast.

Size and Details: From its feathery wings to its pointy claws, the Griffin figure measures 4 ¼ inches long and 5 ¼ inches wide from wingtip to wingtip, offering a detailed and realistic portrayal.

Safe and Durable: This Griffin figurine, made of non-toxic, BPA-free plastic, is a safe and durable toy for children aged 3 and up.

Mythical Realms Collection: The Griffin is a part of Safari Ltd's Mythical Realms Collection, embodying the enigmatic creatures of ancient lore.