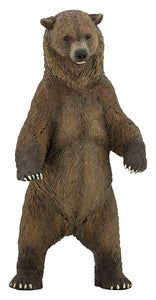 Description:
True to Life Modeling, Meticulous hand-painting and compliance with all safety regulations,
One Of The Most Powerful - The Grizzly bear or "brother of man" by the Native Americans, which can grow up to 2.7 meters tall, is one of the most powerful and intimidating animals in the world. Originating from North America, the Grizzly bear is believed to be the second most powerful mammal after the Polar bear.

Mix and Match - This dark brown coat with shades of blonde and black is tinged with grey is perfect to mix and match with other Papo figures and animals. It is great for education purposes, creative play, party favors, and crafts.

Develops Dexterity And Sparks The Imagination - We encourage your kids to use their imagination to create their own magical kingdom. This Papo toy will help to develop their skills while enjoying hours of imaginative play in wildlife series.

Beautifully Finished And Durable - This figure is beautifully finished and the extreme attention to detail is universally recognized. Papo strives to manufacture long-lasting, high-quality toys, its measures approximately 2.36 x 2.17 x 4.92 inches; Suitable for ages: 3+ Years.