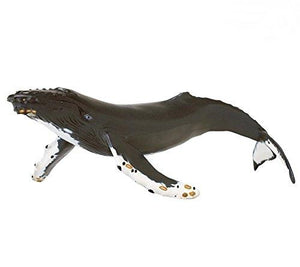 Description:
MAJESTIC CREATURES: Sing under the sea with our Monterey Bay Aquarium humpback whale! Scientists have found that the noises humpback whales make are their way of communicating with each other through song and to appeal to prospective mates.

PART OF THE COLLECTION - This unique collection of ocean creatures that are found in the waters off the coast of the Half Moon Bay, which is where the aquarium is located. The mission of the aquarium is to foster ocean conservation and protect it and its sea dwellers throughout the world. Safari Ltd. shares this commitment with them.

MADE WITH INDUSTRY-LEADING STANDARDS - Like all Safari Ltd products, the Safari Ltd Monterey Bay Aquarium Sea Life Tiger Shark has been individually hand painted, features quality construction from safe, phthalate and lead-free materials, and includes an educational hangtag in 5 languages.

REALISTIC APPEARANCE FOR MULTIPLE USES - Realistic, educational, and fun, this figurine is suitable for a range of interests, including collectors, enthusiasts, teachers, and kids. Admire it on a shelf, use it in the classroom, or simply enjoy playing with it.

PRODUCT SPECIFICATIONS - Package includes 1 Monterey Bay Aquarium Sea Life Humpback Whale. Product measures 13.73" L x 7.02" W 4.10" H.