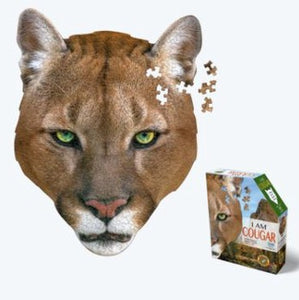 I am Cougar 300pc Shaped Jigsaw Puzzle
For ages 10 and up. Finished size: 24" x 32" (poster-sized). Box size: 12" x 10" x3"

Unique shaped border . High gloss, photo-realistic animal image. Ribbon cut, interlocking puzzle pieces

Packaged in a sealed poly bag and tamperproof box. Dust-free!

Most challenging puzzles we offer!