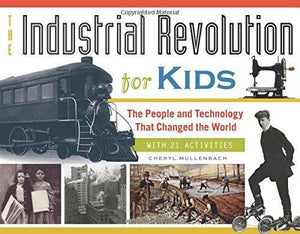 The Industrial Revolution for Kids: A History with 21 Activities
The Industrial Revolution for Kids introduces a time of monumental change in a "revolutionary" way. Learn about the new technologies and new forms of communication and transportation that impacted American life—through the people who invented them and the people who built, operated, and used them. In addition to wealthy industrialists such as John D. Rockefeller and Andrew Carnegie and ingenious inventors such as Eli Whitney and Alexander Graham Bell, you'll learn about everyday workers, activists, and kids. The late 19th and early 20th centuries come to life through the eyes of hardworking Chinese immigrants who built the Transcontinental Railroad; activist Isaac Myers, an African American ship caulker who became a successful businessman and labor union organizer; toiling housewife Hannah Montague, who revolutionized the clothing industry with her popular detachable collars and cuffs; and many others who help tell the human stories of the Industrial Revolution. Twenty-one hands-on activities invite young history buffs to experience life and understand the changing technologies of this important era.
About the Author
Cheryl Mullenbach is a former history teacher, librarian, public television project manager, and social studies consultant. She is the author of Double Victory: How African American Women Broke Race and Gender Barriers to Help Win World War II and has contributed to Arizona Living Magazine, the Des Moines Register, Iowa Council for the Social Studies Journal, Iowa Heritage Illustrated, and An Encyclopedia of American Women at War. She lives in Panora, Iowa.
Product details
Age Range: 9 and up Grade Level: 4 and up Series: For Kids series Paperback: 144 pages Publisher: Chicago Review Press (August 1, 2014) Language: English ISBN-10: 1613746903 ISBN-13: 978-1613746905 Product Dimensions: 11 x 0.4 x 8.5 inches Shipping Weight: 15.2 ounces