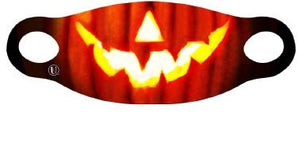 100% Polyester Jersey

Underwraps Costumes Brings You This Quality Halloween Themed Screen Printed Face Mask. This Face Mask Is Made From A Polyester Jersey Blend Combined With 1/8th Inch Of Foam.

Available In Children's One Size - (Full Measurement 13 X 5) (Mouth Cover 7 X 5).

Socially Distance In Style And Show Off Your Holiday Spirit With This Collection Of Screen Printed Halloween Themed Masks.

This Package Contains One Face Mask Only. Gentle Wash, Hang Dry. Do Not Iron.

Underwraps Costume Is A Family Owned And Operated U.S. Company! This Costume Is Ideal For Stage Performances, Costume Parties, Halloween, And Any Dress Up Occasion!