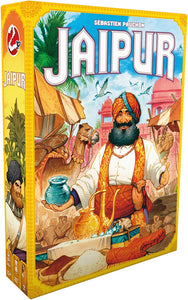 SUBTLE TRADING GAME: In Jaipur, players take on the roles of two of the city's most powerful traders seeking to become the Maharaja's personal trader by amassing more riches than their opponent. This new edition features an exclusive metallic collectible coin.

STRATEGY GAME: Collect and exchange goods at the market then sell them for rupees. Arrange a larger sale to receive a reward. The camels have no sale value but are very useful for trading, especially when you want a lot of goods from the market.

COMPETITIVE TWO PLAYER GAME: Out-trade your opponent to obtain the Maharajah's favor. At the end of each round, the richest trader receives a Seal of Excellence. The first player to collect 2 Seals of Excellence wins the game.

EASY TO LEARN: Blending strategy and luck, Jaipur is a fast-paced game that is simple to learn while offering plenty of depth to dedicated players.

NUMBER OF PLAYERS AND AVERAGE PLAYTIME: This board game for adults and family is designed for 2 players and is suitable for ages 10 and older. The average playtime is 30 minutes.