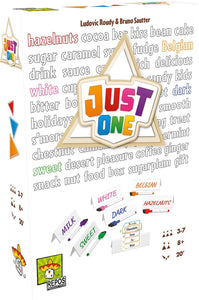 COOPERATIVE PARTY GAME: Just One is a cooperative party game in which you work together to discover as many mystery words as possible. Find the best clue to help your teammate. Be unique, as all identical clues will be cancelled!

FAST-PACED GAMEPLAY: A complete game is played over 13 cards. One player draws a card without looking at it and chooses a random number from 1 to 5. Other players secretly write a clue on their easels, then compare their easels and cancel any identical clues. Show the remaining easels to the player who draw the card so he can guess the Mystery Word!

STRATEGY GAME: Score as close to 13 points as possible. All players earn 1 point for each correct answer. In the event of a wrong answer, they lose the current card as well as the top card of the deck, thus losing 2 points. If players have no answer, they only lose the current card.

HIGHLY VARIABLE AND REPLAYABLE: With 550 words to guess and make others guess, no two games are ever the same. High-quality erasable markers allow you to easily play this game over and over again at your next game night with friends and family.

NUMBER OF PLAYERS AND AVERAGE PLAYTIME: This fun party game for adults and family is designed for 3 to 7 players and is suitable for ages 8 and older. The average playtime is 20 minutes.