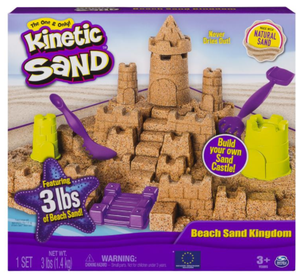 FEELS LIKE WET BEACH SAND: Kinetic Sand Beach Sand feels like wet beach sand that`s actually dry! It magically flows through your hands without sticking. It`s easy to shape and mold and cleans up easily! Like all Kinetic Sand products, Kinetic Beach Sand
3LBS OF BEACH SAND: This fun Kinetic Sand set has 3lbs of Kinetic Beach Sand for kids to create sandcastles and the ultimate sand art again and again! Plus, the packaging doubles as a beach-themed play space! When you`re finished, pack everything away in
8 CASTLE-THEMED MOLDS & TOOLS: The Beach Sand Kingdom includes everything you need to create epic sandcastles anywhere! Use the 6 castle-themed molds to create walls, bridges, towers and more. The 2 multi-use tools can be used to cut, dig, rake and shovel
The Kinetic Sand Beach Sand Kingdom is a 2018 PAL Award Winner, being recognized for promoting play that advances language in children, and winner of the Good Housekeeping Best Toy Awards, and Parents` Choice Fun Stuff Award.