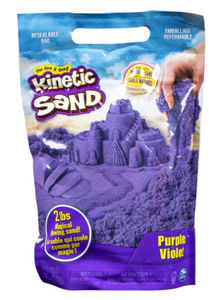 SQUEEZABLE FUN: Kinetic Sand is 98% sand & 2% magic! Pull it, shape it & mold it to create incredible sand art. Kinetic Sand sticks to itself & not to kids so it can be easily cleaned up & stored!
MESS-FREE SENSORY ARTS AND CRAFTS FUN: A great addition to your child`s collection of sensory toys, Kinetic Sand flows through fingers like real beach sand & leaves them completely dry. When pressed together it sticks to itself & keeps its shape!
CLEAN & SAFE PLAY SAND KIDS ACTIVITIES: Kinetic Sand never dries out & is non-toxic, gluten & casein free, allowing your child to safely enjoy hours of independent play and tactile fun.
CREATE & PLAY: Make whatever you dream of with an array of multi colored sand, from brilliant neon colors to shimmering metallic ones that sparkle & shine! It`s the squeezable sand you can`t put down.
GREAT GIFT FOR BOYS & GIRLS: Kinetic Sand kids toys stimulates childrenÕs creativity, easily cleans up and sticks to itself! Try it if your kids have enjoyed playing with slime kits. Kinetic Sand kits and playsets are great gifts for kids ages 3 and up!