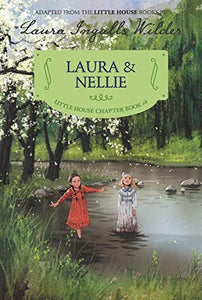 Laura & Nellie: Reillustrated Edition (Little House Chapter Book, 4)
Laura Ingalls and Nellie Oleson are classmates, but they don't get along. Join the original pioneer girl in this Little House chapter book, adapted from Laura Ingalls Wilder's beloved classics. Illustrated with beautiful new black-and-white artwork, this repackaged edition includes bonus material such as games, activities, and more! This chapter book is an excellent choice to share during homeschooling, in particular for children ages 6 to 10. It's a fun way to learn to read and as a supplement for activity books for children.
Laura loves living on a farm, playing in Plum Creek, and wearing her homemade dresses. She's a country girl, through and through. But Nellie is a town girl. Her dad is a shopkeeper and she wears store-bought dresses. Laura is proud to be a country girl, but Nellie teases her for it. Can they put aside their differences and become friends?