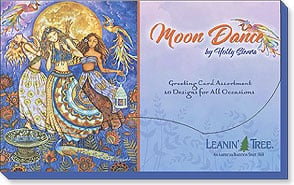 Leanin Tree Moon Dance Greeting Card Assortment #90801
Suitable for gift giving, this portfolio boxed assortment contains 20 different greeting cards featuring mystical designs by Holly Sierra! You'll always be ready to show your thoughtfulness with a beautiful greeting card!
Features:
• 20 Cards with colorful interiors:
    8 Birthday Cards, 4 Blank Inside Cards,
    3 Friendship Cards, 1 Thank You Card,
    2 Get Well Card, 2 Encouragement Cards
• 22 Colorfully Designed Envelopes
• Beautifully Designed Portfolio Box
• Printed on Recycled Paper using Soy-based inks
• Made in the U.S.A.
---
Item#:  90801