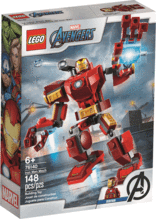 Power up kids' LEGO® Iron Man adventures with the mighty Iron Man mech! When they put the minifigure inside the mech armor, they can go anywhere, grab anything and remove anyone who gets in their way! 
• Kids will love the new-for-January-2020 Iron Man mech design – a larger version of Iron Man with a breastplate displaying his all-important energy core. The cockpit opens so the Iron Man minifigure can enter the mech. 
• Imaginations soar when young superheroes open the mech's cockpit, insert the Iron Man minifigure, position the mech's arms and legs for action, and fire the stud shooter at approaching enemies. 
• Boys and girls aged 6 and up will enjoy endless imaginative Iron Man adventures with this LEGO Marvel Avengers building toy. One of the hottest mech figures for kids who love Iron Man toys. 
• The outstretched Iron Man mech measures over 4" (12cm) tall x 3" (9cm) wide x 3" (9cm) deep – big enough to go anywhere, grab anything and remove any villains or alien invaders that get in his way. 
• This mech figure doesn't need batteries, so kids get hands-on fun whenever and wherever they want it. Playing with battery-free mech toys encourages creative thinking, imaginative role-play and problem-solving skills. 
• Instructions PLUS means even young children can build LEGO® toys independently. This fun interactive guide has zoom and rotate features and is available with the free LEGO Life app for smartphones and tablets. 
• LEGO® Marvel Avengers playsets deliver high-powered, imaginative superhero adventures for kids wanting to relive movie scenes, create stories of their own or simply put their supercool superhero models on display. 
• LEGO® building toys meet the highest industry standards, so they are consistent, compatible and connect and pull apart easily (no superpowers needed!) – and it's been that way since 1958. 
• As well as meeting the highest global safety and quality standards, The LEGO Group drops, squashes, twists, heats, bends, scratches and stretches LEGO® bricks and pieces so you can be sure they're safe for your child.