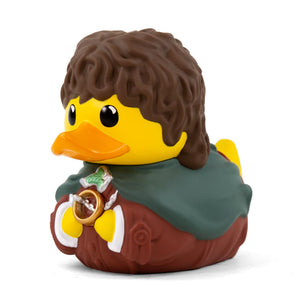 Official The Lord of the Rings merchandise.
Designed and engineered by Numskull Designs.
TUBBZ – your favourite video game, movie, TV show, and comic book characters come to life as cosplaying ducks.
Collect them all – collect the entire Lord of the Rings TUBBZ range now!
Display box – comes in a collector's bathtub display box, featuring the Lord of the Rings logo and the ability to stack on top of other Tubbz.
Premium collectables – highly detailed features and made from high quality PVC.
Approximately 9cm (3.54") tall when outside of tub display stand (some may vary).
'One pond to rule them all…' The effects of the One Ring must be taking its toll on poor Frodo! This officially licensed collectable is part of the TUBBZ range, a highly collectable series of your favourite gaming, movie, TV show, and pop culture characters in duck form! Featuring incredibly detailed features, this legendary collectable comes complete in a displayable tub box.