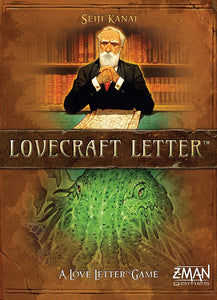 Z-Man Games Lovecraft Letter: A Love Letter Card Game
A QUICK CARD GAME OF RISK AND DEDUCTION: Enter the frightening world of the Cthulhu mythos and embark on a quest to find your missing relative in this Lovecraft edition of the essential Love Letter game. Utilizing the award-winning Love Letter system, Lovecraft Letter throws players into the terrifying world of H.P. Lovecraft.

ENTER A CHAOTIC WORLD: You and your friends find yourselves in the midst of mysterious events surrounded by strange figures, letters with unreadable text and sudden appearances of beings unknown. By relying on your connections, you set out to investigate these incidents. But beware, there is a forbidden and frightful truth out there that could drive you to insanity.

STRATEGY CARD GAME: The terrifying events, characters, and items in the world of Cthulhu can overwhelm the mind and lead to insanity. Cards with insanity powers give players more options in their investigation, but you risk being kicked out of the round. Will you put an end to the evil schemes as an investigator or will you help guide the world to destruction as one of insanity's disciples?

CHALLENGING AND COMPETITIVE: There will be many obstacles, none of which more daunting than the insanity contained in some of the clues left behind. Will you achieve your goal or fall into insanity? It all depends on you.

NUMBER OF PLAYERS AND AVERAGE PLAYTIME: This fun family card game is made for 2 to 6 players and is suitable for ages 10 and older. Average playtime is approximately 20 minutes.