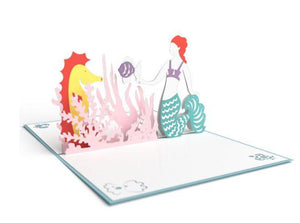 Lovepop Mermaid Pop Up Greeting Card
The gorgeous turquoise blue cover of this delightful pop-up card features a laser-cut illustration of an adorable seahorse. Once opened the card reveals an unforgettable surprise: a stunning red-headed mermaid with her sea creature friends pops out to delight you. 

The pop-up scene, featuring a lavender fish and a handsome orange and yellow seahorse frolicking on the ocean floor, is straight out of the imagination. The gorgeous trio is surrounded by an exquisite pink coral reef. 

The outer corners of the card contain lovely laser-cut embellishments including a cute crab and sweet sea turtle. 
 The card is 5 inches wide by 7 inches tall.