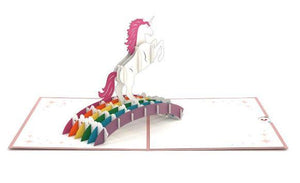 Lovepop Unicorn Pop Up Greeting Card
The front of the unicorn birthday card features a shimmery pink cover with a silhouette of a unicorn. Open it up to reveal a majestic unicorn galloping across the top of a rainbow. Glimmering sparkles embellish the inner corners of this card.
 The card is 5 inches wide by 7 inches tall.