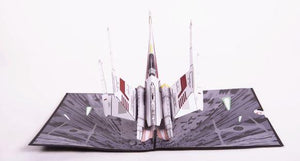 Lovepop X-Wing StarFighter Pop Up Greeting Card
Star Wars™ and Lovepop joined forces to create the X-wing Starfighter™ pop up card.

The black cover of the X-wing Starfighter pop up card features a red, orange, yellow, and white X-wing Starfighter evading a black TIE Fighter's™ green lasers. In the distance, the gray Death Star™ and six stars add context to the scene and make for one awesome cover.

Inside the X-wing Starfighter design, a craft of its namesake is shown flying through the Death Star's crevices evading two TIE Fighters. The X-wing Starfighter sculpture features intricate details that give the illusion you are flying through space along side this iconic spacecraft.
 The card is 5 inches wide by 7 inches tall.