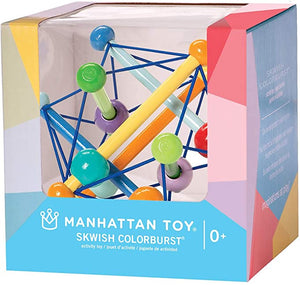 MULTI-SENSORY CLUTCHING BABY TOY: Classic, multi-sensory clutching rattle encourages grasping and reaching which are important for gross motor skills; the lightweight wooden dowels, smooth finish, and elastic ties make it easy for little hands to grab.

BABY WOODEN RATTLE: The Skwish is surprisingly lightweight, allowing little ones the ease of sliding the beads back and forth on dowels, producing a very pleasing rattle sound and allowing baby to explore sound and learn cause and effect.

DEVELOPMENTAL TEETHER TOY: The highly-regarded design of wood construction and elastic ties allow the unique rattle and teether to flatten, or "squish", and always return to its original shape.

HEIRLOOM QUALITY WOODEN TACTILE TOY: The Skwish Classic Rattle and Teether safe for baby teething due to the baby-safe water-based acrylics that remain hardened, it has bountiful tactile qualities of smooth, yet perceptible wood grain texture.