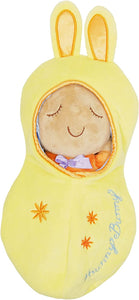 BABY'S FIRST BABY DOLL: Part of our Snuggle Pods Collection of soft first baby dolls, Hunny Bunny Beige is a deluxe baby soothing lovie just waiting to be nurtured in the loving arms of a little one.

SOOTHING DOLL FOR BABY: The Snuggle Pods are perfect all soft first dolls for babies to cuddle and snuggle and for toddlers to tuck, tote, and nurture. Their outstretched arms, sleepy eyes and friendly smiles are off the charts cute and play very well as baby shower gifts.

SOFT AND SNUGGLY BABY LOVIE: Rich in robust tactile qualities, the incredibly huggable Snuggle Pod Hunny Bunny Beige baby doll features an ultra-soft plush bright yellow fabric sleep sack with blue satin lining, embroidered facial features and script lettering, ribbon hair and bow tie. This version of Hunny Bunny joins the classic "go everywhere" dolls from the Snuggle Pod collection.

BABY DOLLS FOR 6 MONTHS OLDS AND UP: Hunny Bunny baby doll is easy for little hands to comfortably remove and put back in for "beddy-bye." As your little one tucks in their favorite comforting companion for the night, maybe they'll be ready to be tucked in too? Baby tactile doll is safety-rated for kids ages 6 months and up; incredibly soft doll and pod measures 9" and 12" long respectively; surface wash soiled fabrics; air dry.

STANDING BY OUR BRAND: If you're reading this, you've found a safe toy from a real company and a brand that cares. Since 1978, Manhattan Toy has been a trusted source of imaginative toys for babies, toddlers and kids of all ages.