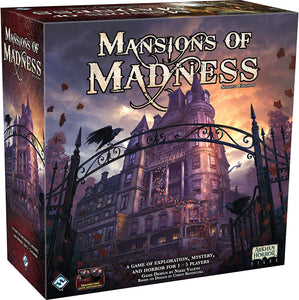 HORROR GAME: This fully cooperative board game of horror and mystery takes place in the same universe as Arkham Horror 3rd Edition, Arkham KCG, Eldritch Horror and Elder Sign. Explore the veiled and misty streets of Innsmouth and stumble through the haunted corridors of Arkham's cursed mansions as you search for answers and respite.

MYSTERY GAME: Players take the part of investigators, entering the darkened rooms of haunted Akrham mansions and other sinister locales to discover strange secrets, solve cunning puzzles and battle otherworldly dangers. Open the door and step inside - it will take more than just survival to conquer the evils terrorizing this town.

COOPERATIVE GAME WITH HIGH VARIABILITY: Game features four campaigns of varying length and difficulty.The dynamics of this game make it an excellent choice for game night with friends and family, especially if they're fans of horror!

APP-DRIVEN GAME: A free digital app is required to play your copy of Mansions of Madness. This immersive companion app guides players, step by step, through each scenario.

NUMBER OF PLAYERS AND AVERAGE PLAYTIME: This thrilling cooperative horror game for teens and adults can be played with 1 to 5 players and is suitable for ages 14 and up. Average game time is 2 to 3 hours.