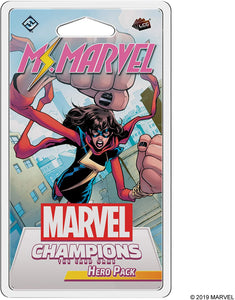 THIS IS AN EXPANSION FOR THE MARVEL CHAMPIONS LIVING CARD GAME: This is not a standalone product. You will need the Marvel Champions: The Card Game Core set in order to play with this expansion.

TEAM UP TO TAKE DOWN MARVEL'S FIERCEST VILLAINS: Marvel Champions: The Card Game is a cooperative card game where players work together to stop some of Marvel's most iconic villains. Pick your favorite Marvel hero and head into battle!

WORK TOGETHER LIKE TRUE MARVEL HEROES: Each villain that players battle offers a unique set of challenges, attacks and events. To succeed, players will need to balance their hero's strengths and weakness with those of the heroes their friends are playing as. Teamwork will be essential to save the world!

MS. MARVEL: Expand deck-building options with this 60-card hero pack. Ms. Marvel is one of the most flexible heroes in the game, able to fit into whatever role is needed while learning to be a hero and protecting her friends from harm. Her Nemesis Set introduces the genius Thomas Edison, scheming in the shadows!

NUMBER OF PLAYERS AND AVERAGE PLAYTIME: Marvel Champions The Card Game is a cooperative card game for 1 to 4 players and is suitable for ages 14 and older. The game takes about 45 to 90 minutes to play.