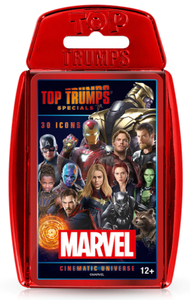 The Marvel Cinematic Universe is one of the most thrilling, intricate and sprawling franchises in movie history, featuring a plethora of inspirational superheroes from across the globe. We've hand-picked thirty of our favorite heroes and villains and pitted them against each other in this brand new edition of Top Trumps: Marvel Cinematic Universe. With stars like Black Widow and Star-Lord, Doctor Strange, Shuri and Black Panther, plus villains like Thanos, War Machine and Loki, choose from categories including strength, technology and wisecracks and battle to see which of these superpowered icons is the greatest! Each card features a unique bio and official artwork, and combined with the classic competitive gameplay that Top Trumps is known for, this pack is guaranteed to please film fanatics and players alike. Stark technology won't win this battle for you - you'll need to rely on your skills and your knowledge of the MCU to succeed!
Key Features
Entertaining, educational card game loved for bringing your favorite Marvel characters to life
Play Top Trumps anytime, anywhere, in any galaxy, with as many people as you like
Find out how ruthless Ultron is, or how strong Iron Man is 
Easy-to-carry plastic case means there are no limits on gameplay
Prepare to outsmart your opponents, discover new and exciting superhero facts and duel your way to becoming the Top Trump!