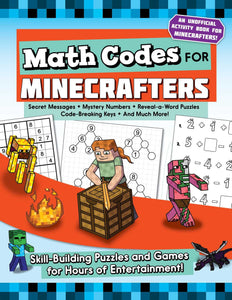 Challenge your kid to crack these video-game themed math codes and show them how much fun learning can be!

Kids can choose from over 50 colorfully illustrated puzzles featuring their favorite gaming characters and scenarios. Their mission: to unlock the secret code, spell out the secret message, or solve the equation before the game ends (or the creeper explodes!). With diamond swords, suits of armor, zombies, and magical potions to keep every page fun and exciting, kids won't even realize that they're practicing and developing core math and problem-solving skills.
 
Builds foundational math skills in addition, subtraction, multiplication, and division. Helps them practice fact families, balancing equations, and more.

Encourages young gamers to use what they know to tackle exciting math challenges

Supports classroom learning at home, in the car, and anywhere else you take it with you!
 
Perfect for reluctant learners and kids who can't get enough of math or secret codes, Math Codes for Minecrafters makes every kid feel like they're winning at math.