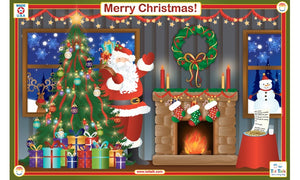 Ho Ho Ho! Decorate your table during one of the most celebrated holidays, Christmas, with Tot Talk's festive Merry Christmas placemat. Parents and children can talk about how Christmas is celebrated in several other countries in the World. Not every country or culture has a Santa Claus. Learn how to say Merry Christmas in three other languages and use the Advent Calendar to color ornaments and countdown to Christmas day. Merry Christmas to all and to all a Good Night! 
MADE IN USA
Safety-Approved  
Award-Winning
Anti-bacterial - Wash with dish soap; placemats dry quickly. 
Use dry erase or washable markers.  Kids can also wipe clean with paper towel or eraser.  A spray bottle is fun too!  
Used in homes, schools and on the go, traveling or in a restaurant.
Age Recommendation:  2 - 6
Lightweight and durable.  
Dimensions:  17.5" x 11.5"