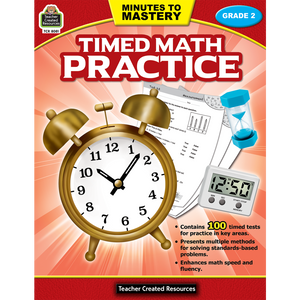 Teacher Created Resources Minutes to Mastery- Timed Math Practice Grade 2
The Minutes to Mastery series was designed to help students build confidence in their math abilities during testing situations. As students develop fluency with math facts and operations, they improve their abilities to do different types of math problems comfortably and quickly. Each of the 100 tests in this book has 10 questions in key math areas. Multiple opportunities
are presented to solve the standards-based problems while developing speed and fluency. Includes tracking sheet and answer key. 112 pages.