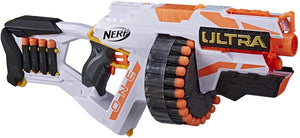 THE GOLD STANDARD IN NERF DART BLASTING: Experience extreme distance, accuracy, and speed with Nerf Ultra blasters that are designed with advanced features to take your Nerf games to the next level

NERF ULTRA DARTS ARE THE FARTHEST FLYING NERF DARTS EVER: Blast into the game-changing superiority with Nerf Ultra darts - the farthest flying Nerf darts ever, up to 120 feet (36 meters)

NERF ULTRA ONE BLASTER WITH HIGH-CAPACITY DRUM: The motorized Nerf Ultra One blaster includes a high-capacity dart drum that holds up to 25 Nerf Ultra darts. Works only with Nerf Ultra darts.

25 NERF ULTRA DARTS: Includes 25 ground-breaking Nerf Ultra darts that feature an innovative flight tip, Aerofin technology, and lightweight Nerf Ultra foam. They work only with Nerf Ultra blasters.