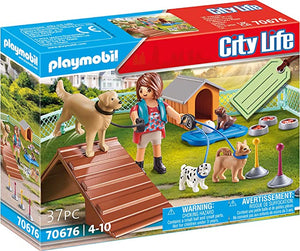 Playmobil City Life Dog Trainer Set
The trainer is well equipped to give the dogs exercise, as well as the training they need to practice commands.

All of the dogs enjoy playing in the pen, running up and down the ramp, and earning treats as they learn new tricks.

Bring the dog to the PLAYMOBIL Take Along Pet Clinic (item 70321 - sold separately) when they are due for their check ups.

The gift tag on the packaging makes it easy to personalize this set!