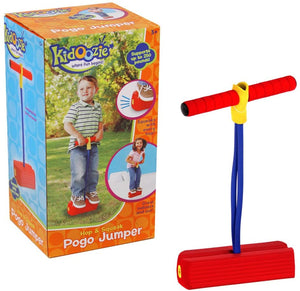 FUN AND BENEFICIAL: Able to be used year round, our Foam Pogo Jumper is a fun and exciting toy for teaching children basic yet necessary physical skills like hand-to-eye coordination and dexterity. It also encourages an active and healthy lifestyle through play by strengthening core muscles.

FOR ALL SIZES: The Kidoozie Foam Pogo Jumper can accommodate children of all sizes and supports up to 250 pounds, meaning it's just as enjoyable for parents who want hopping fun of their own!

SQUEAKY SOUNDS: Our Foam Pogo Jumper has an adorable squeaker included in the base so your little one can be a symphony of sound as they bounce around the world.

SAFE PLAY: With comfortable handles and a soft, cushiony base, your child can safely use our Pogo Jumper indoors and outdoors. It won't even leave scuff marks on surfaces like hardwood floors!

SPECIFICATIONS: Package includes (1) Kidoozie Foam Pogo Jumper.