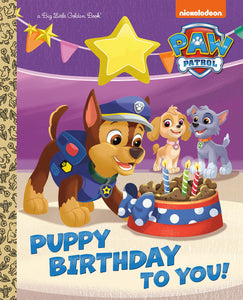 Puppy Birthday to You! (PAW Patrol) (Big Little Golden Book) Hardcover
An oversized edition of a poplular Little Golden Book featuring Nickelodeon's PAW Patrol!

Can Skye, Rubble, and the rest of the pups from Nickelodeon's PAW Patrol save Adventure Bay AND throw Chase a surprise birthday party? Featuring big pages and a shiny foil spine, this oversized Little Golden Book will thrill children ages 2 to 5. It's perfect for birthdays, bedtime, or any time!
 
Get on a roll with the Nickelodeon's PAW Patrol! Chase, Marshall, Rubble, Skye, and the rest of the puppy heroes are on a mission to save their friends and protect the community of Adventure Bay using PAW-some vehicles, tools, and teamwork.