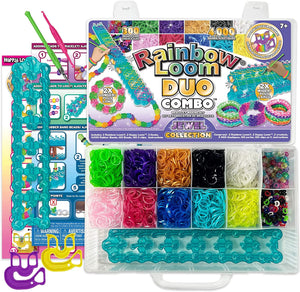 Rainbow Loom Duo Combo Bracelet Making Set
The Rainbow Loom Duo Combo Sets Features 4,000 Latex-Free Rubber Bands, 2 Rainbow Loom, 2 Happy Loom, 2 Hooks, 150 Jewel Beads, 150 C-Clips, and Instructions all in an Organizer Case.

The perfect combo set that gives both YOU and YOUR FRIEND the ability to loom together for ENDLESS hours of fun! Great for beginners or professionals.

The easy-to-use Happy Loom gives you the ability to make multiple bracelets on the go.

Expand your looms by connecting them end-to-end or side-by-side to make LONGERor WIDER creations.

Idea Craft Activity for ages 7+ that promotes fine motor skills and cognitive thinking.