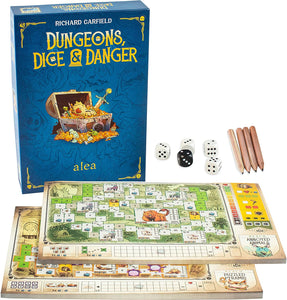 Ravensburger Dungeons, Dice & Danger – an Easy to Learn Roll and Write Strategy Game
Great Replay Value – Players explore four levels with different foes, including Annoyed Animals, Defiant Dinosaurs, Puzzled Pyramid, and Clumsy Cultists.

Perfect Solo or for Game Night – Features a solo option so players can face the dungeons on their own, and its scalable difficulty makes it a great game for both beginners and experienced players.

Makes a Wonderful Gift – Dungeons, Dice & Danger is perfect for 1 to 4 players ages 12 and up and takes 30 to 45 minutes to play.

What You Get – Each game comes with 200 Adventure sheets, 5 Dice, 4 Pencils, and rules in English, German, French, Italian, and Spanish.

Quality You Can Trust – Ravensburger has been making quality games for the head, hand, and heart for over 130 years.