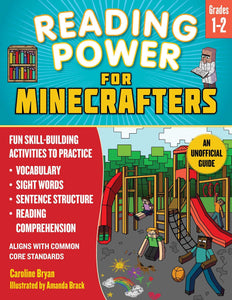 Reading comprehension and fun practice activities to make learning more like gaming!

This kid-friendly workbook features well-loved video game characters and concepts to reinforce the development of first and second grade reading skills laid out in the national Common Core State Standards. Colorfully-illustrated and high-interest practice pages and reading comprehension passages use golden swords, enchanted treasures, friendly farm animals, dangerous mobs, and heroes like Steve and Alex to add an element of fun to reading time.

They will practice all of the reading skills they need in school, including:

Fundamental reading practice with phonics and sight words

Fun, colorful matching and fill-ins for learning sentence structure and vocabulary

Reading comprehension using high-interest Minecrafting stories

A Minecrafter-themed fluency tests to help kids read with confidence and greater success!

Skip to the pages that suit your child's needs and learning style or start at the beginning and advance page by page–it's up to you! As the workbook progresses, the activities become more challenging so that learners of all levels can enjoy an exciting, skill-building reading adventure. Perfect for Minecrafters who learn at all paces, Reading Power for Minecrafters is as fun as it is educational–and is just what your little learner needs to get ahead academically!