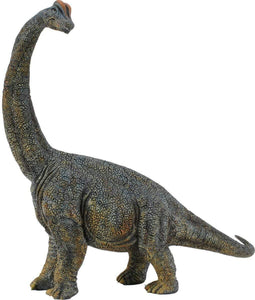 Reeves Collecta Brachiosaurus Large Dinosaur
FUN FACT: Brachiosaurus was unusual in having longer front legs than back legs. This, together with a long and powerful neck gave it an advantage of height when searching for food.

PALEONTOLOGIST APPROVED: Working with experts from across the globe, Collecta hand-painted figurines are all factually accurate and paleontologist-approved, so little ones get to learn while they play.

AUTHENTICITY: Each prehistoric sculpture has been approved by Anthony Beeson, a well respected expert in palaeoimagery who is also an art librarian, archaeologist and collector, based in the city of Bristol, England.

DELUXE 1:40 SCALE: Each of the Collecta Deluxe models comes with a little plastic palaeontologist know as "Sir Arthur Gauge". Sir Arthur comes complete with pickaxe and binoculars and provides scale for each model. This really allows the size of the Beishanlong to be appreciated.

PRODUCT SPECS: Deluxe Brachiosaurus measures 10.9" L x 11.2" H making this quite a large dinosaur model, but one that can still be held comfortably by the hands of a small child.