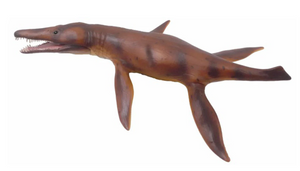 Reeves Collecta Kronosaurus with Movable Jaw
FUN FACT: The Kronosaurus had a large head and a very short but muscular neck. Its head took up more than a fourth of its body length. Its remains were discovered in Australia and Columbia leading scientists to believe that it could have been present all over the Indian and Atlantic oceans during the prime of its existence.

PALEONTOLOGIST APPROVED: Working with experts from across the globe, Collecta hand-painted figurines are all factually accurate and Paleontologist-approved, so little ones get to learn while they play.

AUTHENTICITY: Each prehistoric sculpture has been approved by Anthony Beeson, a well-respected expert in paleoimagery who is also an art librarian, archaeologist, and collector, based in the city of Bristol, England.

DELUXE 1:40 SCALE: Each of the Collecta Deluxe models comes with a little plastic paleontologist know as "Sir Arthur Gauge". Sir Arthur comes complete with pickaxe and binoculars and provides scale for each model. This really allows the size of the Kronosaurus to be appreciated.

PRODUCT SPECS: Deluxe Kronosaurus measures 12.2" L x 2.4" H making this a relatively large model, but one that can still be held comfortably by the hands of a small child.