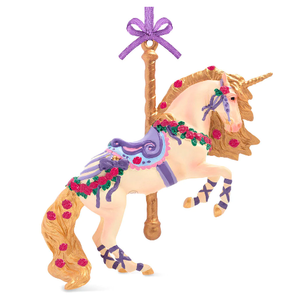 Rosalie Carousel Ornament
The charm and nostalgia of the carousel horse appeals to all ages, and our newest addition is sure to delight! Designed by artist Rayvin Maddock, unicorn Rosalie's flowing golden mane and tail perfectly accent her unique perlino coat.This romantically styled beauty is adorned with roses and trailing ribbons in hues of purple, pink, and red.
The 2022 Carousel ornament is the 23rd in a collectible series and is sure to delight everyone!