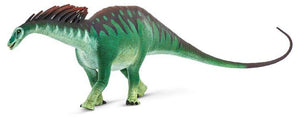 Description:
Named for the La Amarga geographic formation in Argentina, Amargasaurus is known from an almost entirely complete skeleton that showcases its most distinct feature – two rows of large spines along the back of its neck.
Scientific Name:

 

Amargasaurus cazaui
Characteristics:  Amargasaurus was in many ways a typical sauropod dinosaur, with a long neck and a long tail, meeting in a wide midsection supported by four relatively slender legs. For a sauropod, its neck is comparatively small, and this figure replicates its unique rows of spines along its length.
Size and Color: The Amargasaurus figure measures a whopping 16 inches long and just over 4 1/2 inches high. Our hand-painted Amargasaurus is a dark green above fading to a lighter shade below, with reddish brown markings on its back and red tips on its spines.