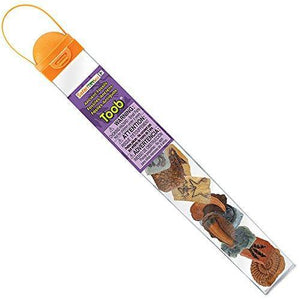 Description:
10 PROFESSIONALLY SCULPTED FIGURINES – This themed collection is perfect for aspiring paleontologists. It includes 10 professionally sculpted miniatures, including a Dino Footprint, Giant Crab, Ammonite, Raptor Claw, Fossilized Frog, Trilobite, T-Rex Tooth, Fossilized Fish, Dino Skin, and Sea Scorpion.

COMES IN CONVENIENT TOOB – All these fossilized figures pack neatly into a reusable tube, making it easy for you to take an ancient world with you wherever you go. For cleaning, just wipe with a damp cloth.

TOYS THAT TEACH – Each tube comes with a spinning globe top and educational facts inside. The Safari Ltd Ancient Fossils TOOB is perfect for hours of imaginative play. Great for aspiring archeologists, paleontologists, and future adventurers.

MADE WITH INDUSTRY-LEADING STANDARDS – Even though they're small, each figurine has been individually hand-painted, is detailed and realistic, and features quality construction from phthalate and lead-free materials.

TOOB SPECIFICATIONS – This Safari TOOB contains 10 figures. Replica size ranges from 1.5" to 3." TOOB measures 2"L x 2"W x 12.9"H. For ages 3 and up.